Porter Tunnel Six Months Behind Schedule
Liberty Tree News Bureau
March 1st 2001 6:30pm EST
LIBERTY CITY (RS) - Andre Perkins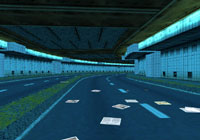 A completed section of the tunnel, the opening of which has been delayed until late Fall
Chief engineer and project director Winston Cole admitted at a meeting with the FBC Finance Group that funding would be required for an additional six months before the construction project would be ready for its first cross-bay traffic.
"Any engineering project of this complexity can hit problems which inevitably push back completion dates," Cole said, "We are lucky that a project so important to Liberty's economic development should have the understanding relationship we hold with our financiers, FBC."
The project, originally scheduled for completion in April this year, will now not see Liberty's economic districts linked until late October, which is good news for separatists and keen swimmers! Keep on smiling Liberty!
---